It's summertime, and this list, which we originally wrote in 2021, is still a great resource, so we are sharing it with you again! In addition, our friends at Porch.com offered us their summertime maintenance tips article, and we thought it was worth sharing bonus tips from that blog with our community as well! Their list includes outdoor maintenance tips, which we've addressed in a different blog post, here. We've updated this article with Porch's additional suggestions, at bottom.
1. Clean your home's lesser-considered interior spots. The corners and crevices need some love! Wipe down baseboards, clean out closets and empty cabinets. Base- boards are often overlooked when it comes to cleaning. So are kitchen cabinets and your linen closet. It can be tough to muster up the energy to get on your hands and knees and clean below, but it is something you want to do at least once a year to keep dust and dirt from building up.

2. Declutter. Take this opportunity to get rid of extra stuff you don't need. Find your local Buy Nothing Page on Facebook and give away your old treasures! (Some say that the angels love to visit a freshly cleaned home).
3. Do a test of your smoke and carbon monoxide detectors. Replace batteries or units if needed.
4. Get your cooling system ready. For our clients who live on the sunny side of the Caldecott tunnel: Consider getting your air conditioner serviced. This one is especially important for summer home maintenance since you don't want to be stuck without air conditioning when the temperature starts climbing! For the rest of us, we can consider installing window AC units. If you are pulling out the ones you used last year, make sure to clean off the filters before starting them up again. And check the instructions. Some manufacturers recommend cleaning the filters every two weeks during heavy use.
5. Clean and adjust your ceiling fans. Dust ceiling fan blades and check that fans are working properly and reverse the direction if needed. During the summer months, your ceiling fan blades should be set to spin counterclockwise. When your ceiling fan spins quickly in this direction, it pushes air down and creates a cool breeze. This helps keep a room's temperature consistent throughout the day and reduces the need for an air conditioner to run constantly.
6. Get your chimney cleaned. Yes, you might not use your fireplace again until fall or winter, but that's exactly why this is the perfect time to call a chimney cleaning service. They won't be as busy!
7. Deodorize the garbage disposal. When's the last time you tackled your garbage disposal? Exactly. Flushing with dish soap and hot water can do the trick. For persistent odors: with the unit turned off, pour in 1⁄2 cup baking soda and then 1⁄2 cup vinegar; when the fizzing stops, flush with hot water. And/or for a fun citrus-y refresh anytime, pulverize a lemon, one half at a time in the disposal with the water running.
8. Keep the outdoors outside. If folks are going to be running in and out of the house with dirty or sandy feet this summer, consider having a basin of water by the door for everyone to wash off their feet before coming inside. A super-absorbent floor mat inside the door, or a towel for drying on a hook nearby, might also be a good idea.
9. Wipe down windows and screens. An indoor/outdoor tip: homeowners generally clean our interior windows throughout the year, and summer is a good time to do that as well as to wash the exterior windows. You may also want to remove and wipe down or replace dirty screens, for the most sparkling effects.
10. BONUS indoor/outdoor energy-saving tip: Consider an outdoor clothesline. Take advantage of the warm weather and put up an outdoor clothesline, so you're not using your dryer as much.
Sources: insurancehub.com; budgetdumpster.com
Baseboards image from Arana's portfolio. To view more photos from that interior paint and wall coverings project, click here.
Summer 2023 ~ MORE MAINTENANCE TIPS:
Preparing Your Home: The Ultimate Summer Maintenance Checklist — from Porch.com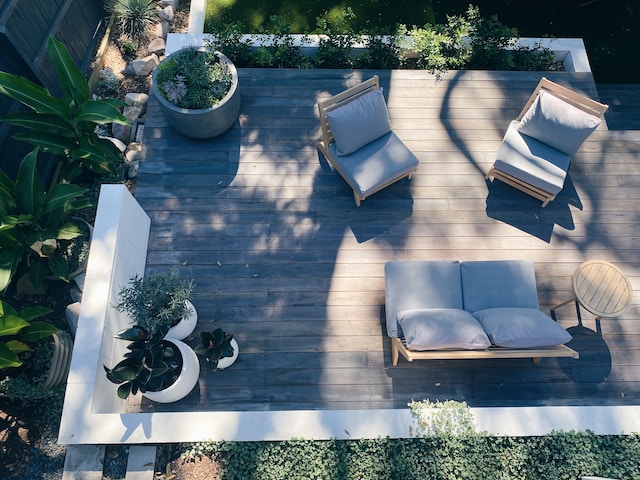 By Maria Jose Meneses
Click here to read the full article
The warm and dry days of summer provide an excellent opportunity to do necessary maintenance around the home and property. With so much to be done in just a few months, the "to-do" list can get pretty long. But don't worry! In this article, you'll learn how to make the most of the summer months to maintain your home and property, including some preventative measures you can take to stop unnecessary costs and accidents before they start.
Summer maintenance for the exterior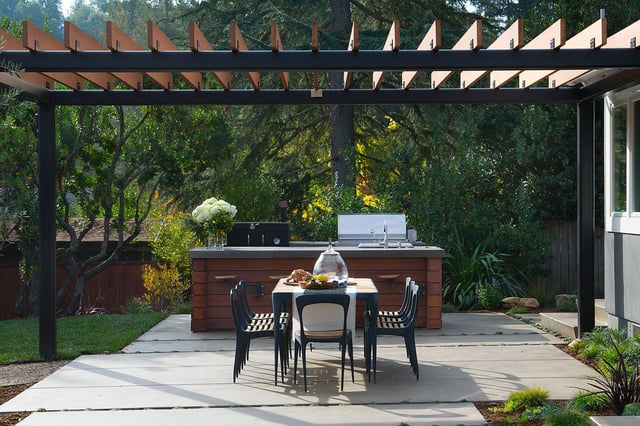 Outdoor kitchen design by LMB Interiors; build by McCutcheon Construction; landscaping by Arca Design Group; wood stain by Arana
When it comes to summer maintenance, the outside of the home is an excellent place to start. Being out in the open has a way of making maintenance projects seem more manageable and less stressful. Perhaps it's the Vitamin D you get from being out in the sun or the fresh air — either way, spending time outside is its own reward.
Inspect and clean the gutters and downspouts

Check and repair the roof for damage

Clean and maintain the outdoor HVAC unit

Inspect and repair damage in the driveway and walkways
Indoor summer maintenance
After you've taken care of the outdoor maintenance for your home, it's time to give a thought or two to indoor maintenance. You may think that this refers to what is often called "spring cleaning," but that is not necessarily so. While there is an element of cleaning involved, the indoor maintenance of your home is mostly about prevention:
Service and clean the A/C

Inspect and maintain window and door seals

Clean and inspect ceiling fans and light fixtures
Summer maintenance for landscaping and outdoor spaces
Working in the yard and garden is a source of peace and joy for many people. Fortunately for those people, much of what is involved in maintaining the landscaping and outdoor spaces revolves around looking after the greenery:
Trim trees and shrubs away from the house

Fertilize and water the lawn

Inspect and repair damage to the deck or patio —

and if you have patio decking or fencing that needs refinishing, painting, staining, or waterproofing,

contact Arana!

Clean and maintain outdoor furniture and accessories

Inspect your property for pest issues and treat/address invasion points or nests
Safety checks
Test and replace smoke detector batteries

Check and test outdoor lighting

Ensure adequate outdoor lighting

Inspect and replace worn or damaged electrical cords

Review and update security systems

Ensure proper ventilation in the attic and basement