By Suzanne Arca, ASLA, ALPD, CLCA
Founder and Principal, Arca Design Group
Many of us caught the edible garden craze a few years back, but some of us may have found that a farm-to-table garden isn't always the most aesthetically appealing scene. This doesn't have to be the case.
Using edibles in landscape design can increase the health and economic benefits we derive from our gardens, and can be done in such a way as to increase a garden's visual appeal as well. Working within the bigger picture of the overall garden style, thoughtfully incorporating decorative containers, various plant forms, hardscape structures, and blending edibles with ornamentals, are all ways to enhance the ornamental garden while reaping the many benefits of growing your own food.
Although the traditional kitchen garden, potager, or parterre, has its own kind of traditional beauty, that may or may not jive with the aesthetic of your home or existing garden. Is your home and landscape modern, with clean lines and minimal plant materials? Consider swapping out the traditional wood planter boxes for Corten or stainless steel, in a variety of shapes and shades. Food-safe options for these are available.
Arranging your plantings in carefully chosen blocks of contrasting color and texture can also achieve a beautifully clean, minimalist look. Do you have a Mediterranean villa theme happening? Consider planting your favorite herbs, vegetables, or fruits in beautiful, deep ceramic pots, arranged in groups throughout the garden.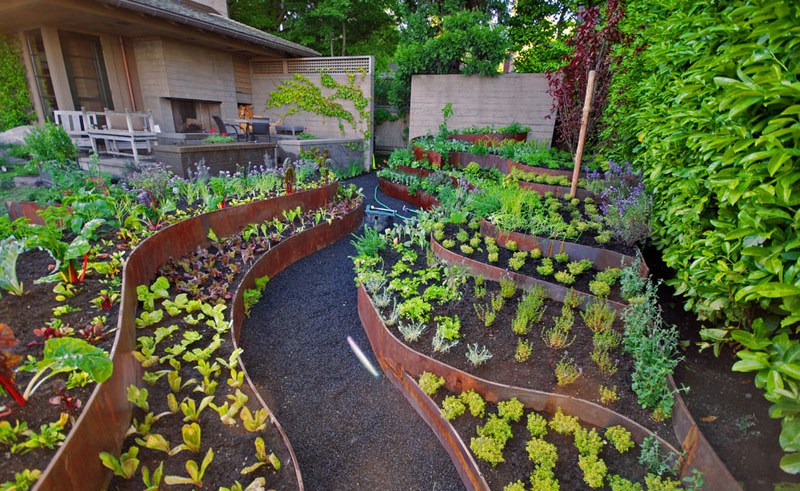 Some edible plants provide their own structural support, and some require additional support. This gives us an opportunity to play with the valuable element of verticality in our outdoor spaces. Vines such as beans and peas, grapes, or kiwi can form a delicious, living green wall. They can be trained onto an existing wall with a few wires, drape gracefully over arbors, allowing the fruit to hang for easy harvest, intertwine with artfully shaped bamboo or twig structures, or climb the living wood of another plant.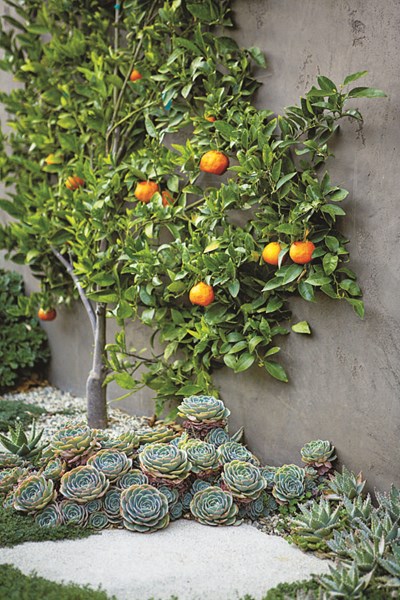 Fruiting trees provide another opportunity for creating sculptural vertical elements in the garden with some regular aesthetic pruning, the traditional art of espalier. An added benefit of espaliering fruit trees is that they can fit into narrow spaces, such as along a wall. Not enough space for a traditional orchard in your yard, you say? With espalier techniques, you still get to have some fruit trees!
Another strategy many aesthetically minded gardeners employ is the blending of the edible elements with the ornamental landscape. In some cases, this benefits our tender and high-maintenance annual food crops, by providing a more ecologically diverse climate for them. Companion planting can increase resistance to pests and improve soil nutrition.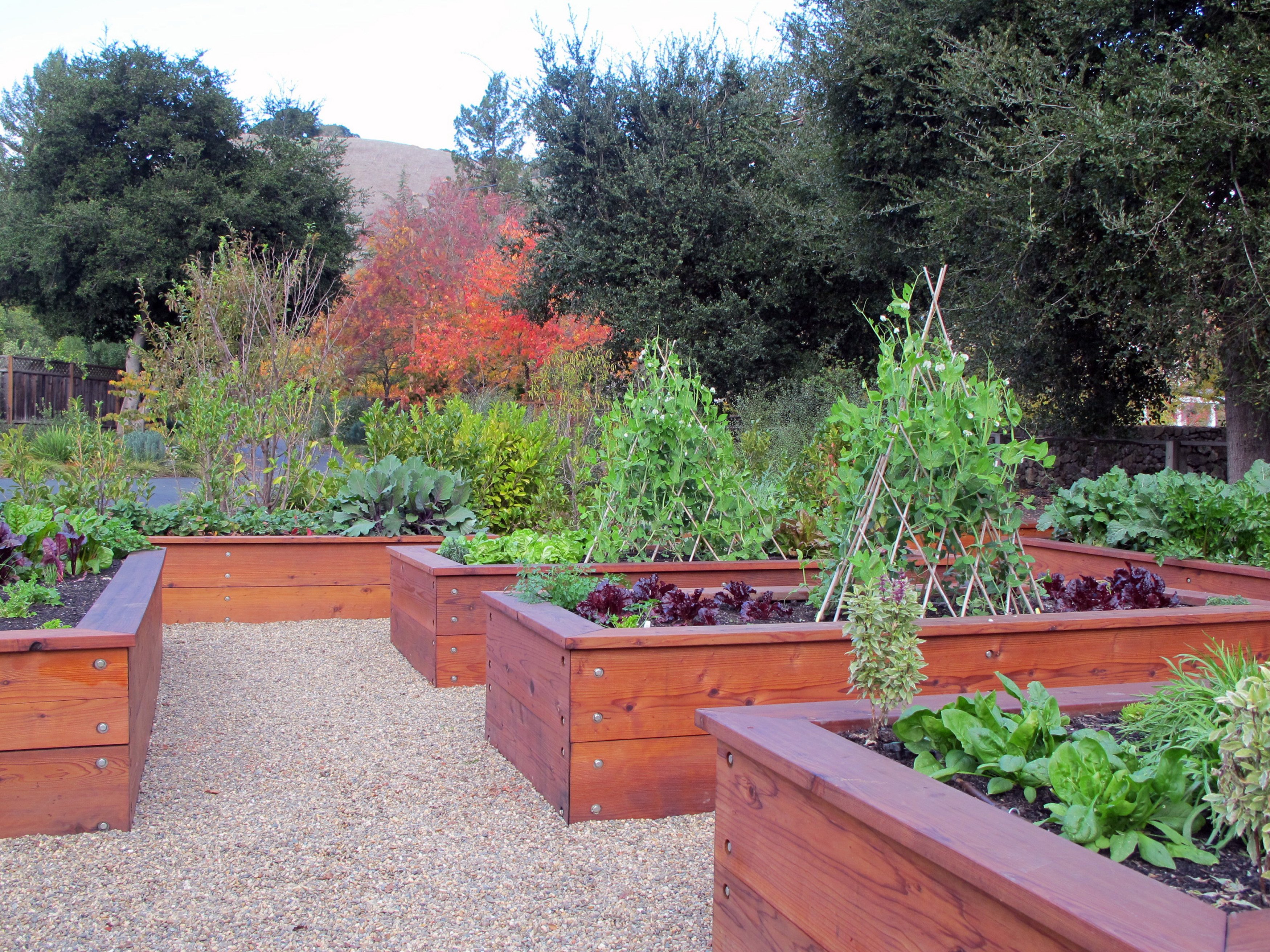 Some of our vegetables also have aesthetically appealing qualities of their own such as flowers, fruit, interesting leaf texture or color, or plant structure, which can provide visually interesting components that change with the seasons. Think of the bold statement made by the flowers of chives or artichokes, the deep violet drama of a red cabbage or tree collard leaf, the verticality of a stalk of corn, or the way a pomegranate tree transitions from golden-leafed to red-globed glory in the fall.
While annual edible plants may sometimes require more maintenance than your average perennial ornamental gardens, the benefits they offer are multi-faceted. Being in touch with the rhythm of the seasons brings not just food to the table or a reason to work up a sweat outside, but psychological benefits as well. For gardeners with less time on their hands, there are plenty of nurseries that sell small vegetable starts—no waiting for seeds to germinate. Also, not to be overlooked, is the fact that the Bay Area offers the unique gift of a year-round growing season.
All it takes to get started is tucking a few herbs into the edge of that bed by the back door, and you'll be on your way. Along with enjoying the visual beauty of your garden, why not enjoy the taste?
Did you enjoy this post? Read more of Suzanne Arca's helpful tips for maintaining a beautiful garden, here.

Suzanne Arca, ASLA, ALPD, CLCA is the Founder and Principal of Arca Design Group, a full-service design-build landscape architecture firm based in the East Bay. Arca Design Group is a Certified-Green and -Bay-Friendly landscaping company. Suzanne is also an instructor in the Landscape Architecture and Landscape Horticulture departments at U.C. Berkeley and Merritt College. Contact her to design your dream garden! arcadesigngroup.com
All photos courtesy of Suzanne Arca