That's why we use non-toxic, low-impact, and –as much as we can– recyclable painting products. We are also EPA Safe-Lead Certified in safely handling lead lead paint in renovation.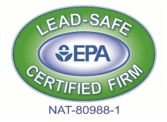 Our commitment to sustainability goes well beyond our products. We give a portion of our profits to organizations working to improve the social and environmental health of our local community, donating to local schools and to organizations that support youth, young girls, families and struggling homeowners, including: Alameda County Food Bank, Rebuilding Together, Peralta Elementary, Chabot Elementary, Hillcrest Elementary, San Leandro School District, Planned Parenthood, and Youth Violence Prevention in Oakland.
We take pride in preserving and beautifying homes to create stronger and more beautiful communities here in the Oakland-San Francisco Bay Area!