Bay Area Schools Train Next Gen Tradespeople
By Catherine Baldi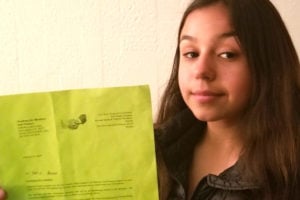 In February our daughter Sofia was accepted into the Academy for Business and Finance at our local San Leandro district high school. The Academy is a three-year program that provides academic and technical training to prepare students for the workforce as well as for higher education.
These types of programs are a critical resource at a time when college tuition grows more out of reach for many families — and are imperative for businesses as the availability of skilled office — and field-labor has become more-and-more limited.
As described in a recent article, "Oakland Schools Go Back to the Future With Vo-Tech," in Oakland Magazine, paraphrasing Emiliano Sanchez, Oakland Unified School District's director of Career Technical Education trades and apprenticeships, "It's been at least a couple decades since the vast majority of Oakland students got any exposure to anyone in their K-12 education who knew anything about the merits of going into the skilled trades."
The article notes the shortage of skilled labor nationwide, as well as in Oakland. There is a concern that with more than 50 percent of the skilled-trades workforce due to retire in the next five-to-10 years:
"Right now, the average age of an apprentice is 28, which means that people graduate from high school at 18 and they basically float around for 10 years until they find construction as a meaningful career," says Sanchez. "There won't be enough talent to fill that void, if we aren't lifting it up in the schools."
In her "College and Careers" class, Sofia shared with me that a presentation was given by a local plumbing union, stating that the electrical and plumbing trades are lucrative and viable long-term career options for students.
This is great news for many of our industry colleagues who search month-after-month for viable candidates to hire!
The effort to create an educational system that is relevant and enables students to step into a real-world career more quickly also upgrades the utility of OUSD public schools at time when they face increasing pressure. The most recent teacher strike highlights the budget and political issues the system has been facing.
Oakland is not the only school district offering these types of pathways for students. San Leandro offers even more varied options including the San Leandro Academy for Multimedia (SLAM) and the Social Justice Academy (SJA) and Academy for Business and Finance (ABF). The district has always maintained Its Auto and Wood Shop.
The San Leandro school district website states, "The purpose of the Academies is to help students excel through rigorous courses and introduce them to career options and paths for after high school. Acceptance in an academy requires an application." Sofia also interviewed for the position. Read more
As Oakland Magazine reports regarding the OUSD career-track offerings: "In the past couple of years, the Oakland school district has placed a greater emphasis on career technical education under its new 'linked learning' initiative, also known as 'wall-to-wall pathways.' In linked learning, nearly every Oakland public high school student in the city must select an academic career path or academy — such as health, engineering, computer science, biotechnology, or architecture and design — by the 10th grade, with hopes that it will encourage more students to graduate and motivate them toward real world careers."
Sanchez addresses the stigma of blue-collar careers such as those in Construction. "I'm not going to lie and say it's been easy. But my work has been working with individuals and trying to show them that skilled trades also are applied math and sciences. It's all part of the same realm — architecture, construction, and engineering. All three go together. You can't have one without the other, and there's just no success without the other. If an architect designs something, but there's never an engineer, and it never gets built out, all he did was a nice drawing and stuff."