By Judy Dinkle, Interior Designer and Color Consultant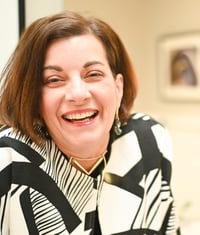 (Part 2 of 2) Approaching a whole house interior painting project can easily feel overwhelming.
As an interior designer and as a color consultant working with Arana's clients, I see this all the time. It's why I do what I do, and why I am happy to help when Arana refers me for a project. Here are a few strategies I use to help guide clients to making the right decisions on paint colors for their homes.
Where to begin:
When faced with selecting a palette for your home, I recommend starting with the more public spaces, the living room, dining room, and entry. Once we find a palette we like for those areas, then the colors for the adjacent rooms end up jumping off from the main colors of the formal entertaining areas. Thus after the formal areas, choose related colors for the family room, primary bedroom, guest room, powder room, bath.
While it might be tempting to apply one palette of three colors throughout, if you paint the whole-house interior all the same, you will end up dulling down the impact of those colors.
How to make a room look thoughtfully put together:
If you want to think like an interior designer, try decorating from dark to light, vertically, in this order: floor, walls, trim, crown molding, casing, ceiling.
For example, if your floor is super dark, the walls might be a medium wheat gold, then the crown molding and casing around windows and doors might be a lighter tint of that or a warm white that picks up the warm tones of the gold, or you could choose a light gray wall color paired with a cool white with a touch of gray in it for the woodwork.
Designer Mark McCauley, says this "cookbook" method to color selection tends to work because it mirrors what we experience in nature: "Any interior space replicates the outside world. The exterior environment is generally darker below our feet (the earth itself), medium-valued as you look straight ahead (buildings/trees) and lighter skyward."
When to paint it black?
Some designers have a rule to add a little bit of black in every room. This technique is very popular now, and I think it's a good idea but I don't automatically do this in every room. Still, it's a tool that works. Black acts to clarify a room's colors. The black could be the hardware on cabinets, it could be a faucet, a light fixture... also, you want to repeat it in a number of accents in the room to help create balance.
Accents like this are like adding jewelry to a perfect outfit. Sometimes I like to use black on a painted floor register or heating vent, especially with older houses that might have vent covers that are very decorative. I might find a place to repeat that pattern elsewhere in the room, also. Other opportunities for black include the stove hood in the kitchen, older light fixtures, door handles.
Other accents that many people may not realize are paintable include brick fireplace surrounds or even the treads and risers on a staircase! Paired with a nice runner, a painted stair system can look fabulous.
When to paint it gray?
In general, like black, a good gray also is a neutral you can use to accent space and pull things together from one room to another. Gray is also popular now. I advise caution; despite what you see in the magazines, I say do NOT do ALL light gray and white. Rooms still need color: pops, accents, artwork, graphic patterns on sheets or towels, an accent wall.
Gray is a great supporting player. Gray's chameleon-like quality invites other colors to appear either warm or cool depending on the tone of gray you choose, and grays can pair beautifully with both pastels or stronger colors like hot pink, Kelly green, or citrusy shades.
Still stuck? Consider timeless pairings:
Still not sure where to begin? Consider timeless pairings to help choose a palette: start with black and white, or blue and white. Try this in a bathroom and then accent with metallic, copper, brushed bronze, or brushed brass. The metallic will balance the contrasting colors and make your space look more thought out.
Click here to read Part 1 of this 2-part series detailing Judy's advice on selecting colors for your home.
You are welcome to contact Judy Dinkle directly about her color consulting and design services at Judy@JDdesignsllc.com or 925-330-6774. Learn more about her work at www.houzz.com/pro/judydinkle/judy-dinkle-jd-designs