As anyone lucky enough to find the right person knows, a really talented and trustworthy handyman can be hard to find! The idea for Honey Homes came to company founder Vishwas Prabhakara soon after he and his wife purchased their home in Lafayette in 2020. Inspired by the challenge of finding a reliable handyman and the satisfaction of sharing the perfect one with neighbors, he founded honeyhomes.com, now a booming subscription-based handyman service and home upkeep app for discerning homeowners throughout the Bay Area.

Daniel Scott, Bay Area Community Manager for Honey Homes, explains: "Honey Homes is a subscription-based model that is reinventing how services are performed in a sustainable way that meets the needs of homeowners on a regular basis.

"If you think about it, most of the time, we notice something needs attention around the house, but we let it slide. That crack in the wall, a draft coming through a closed window, small leaks when it rains. We will put these things off because it's too hard to find the right person, or we'll let them add up until it's one bigger project. Often, this can mean that more damage has accumulated in the meantime — compared to if we'd addressed the problem when it arose.

"That's one way a subscription-based system really helps homeowners. Knowing that you have the option to schedule two 100-minute visits per month and knowing that you have a good handyman on deck at any time to handle the work means that you are more likely to take care of issues in a timely manner, and stay on top of regular maintenance."

The list of tasks that Honey Homes handymen can address is long, wide-ranging, and comprehensive. From maintenance and upkeep to minor repairs, to furniture assembly, decor installation, and more.
"Our staff are fully-vetted, friendly, and reliable," notes Daniel. "Homeowners can request service via the handy app, providing details about the job requested and uploading photos. As soon as the request is placed, we will schedule a walk-through with your handyman to assess the work and provide an estimate.

"If our team can't do the job for you, we'll find someone who will," he adds. "Honey Homes team members are available to supervise these preferred vendors, if desired."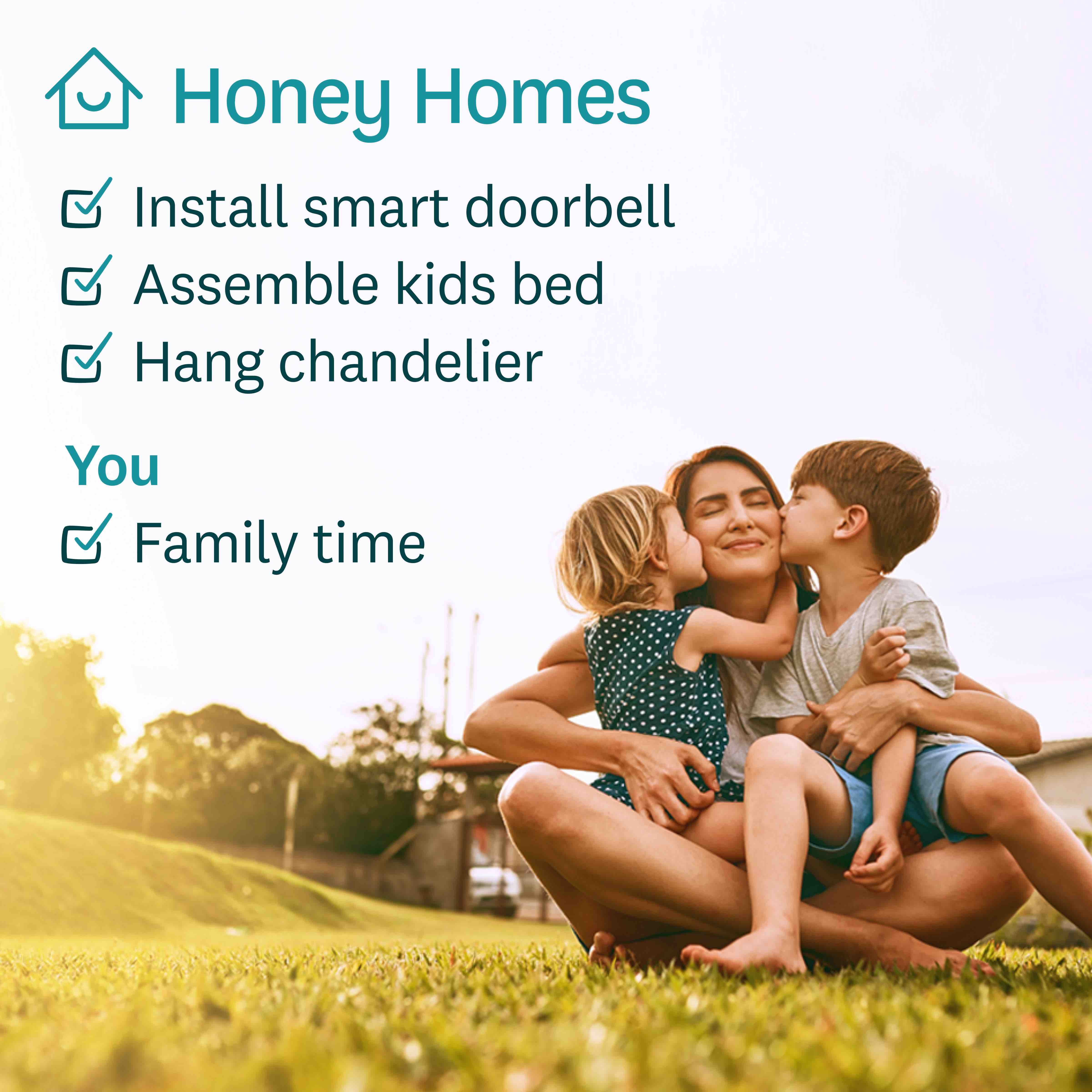 At this time of year, Scott says, a common list of tasks Honey Homes members request help with may include: air filter replacement and vent cleaning, fire safety checks, batteries and systems testing, and window seal testing and repair.

"Sometimes in the shift from winter to summer our handymen help people unpack and repack the garage; in preparation for backyard entertaining we can perform yard work, check the swings in the play structure, hang string lights," he explains.

Other popular task-requests include installing security cameras, hanging artwork, wall-mounting flat-screen TVs, and re-hanging doors that don't close properly; as well as many small electrical, plumbing, and carpentry repairs. Subscribers also enjoy free cardboard box breakdown and e-waste pick-up.

Subscribers each get their own dedicated handyman to build that ongoing relationship with; someone trustworthy who becomes familiar with their home. Scott notes, "Each one of our handymen has passed a background check and is skills-tested and vetted for their communication capacities. We want our subscribers to have that peace of mind. We help people make their house a home!"

Honey Homes' service is billed monthly ($200), or can be paid annually ($2000 — a $400 savings). Honey Homes currently serves over 550 Bay Area families with more homes joining each week, as well as recently launching their second operation in the Dallas metropolitan area.

Dear clients and friends of Arana, if you are interested in learning more, contact Honey Homes to schedule a free walk-through visit — no commitment or credit card number required. If you decide to subscribe, use referral code Arana2023 for $100 off of your first month.

To learn more: Follow Honey Homes online at honeyhomes.com and on instagram at @honeyhomeshq