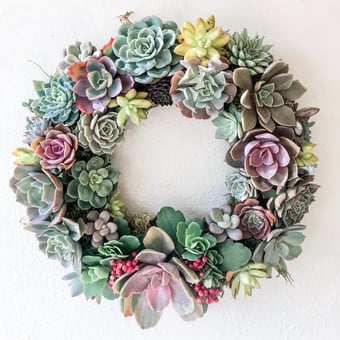 The holidays are a great time to celebrate those around us. But let's just say we here at Arana would not blink an eye if you took these suggestions and applied them, liberally, to amassing your own gift pile.
Succulents as art, group craft, and decor
Living succulent arrangements from Sarah Dunn's Wild Goddess designs are a good choice at any time of year, but since wreaths are a thing for many people in December, we especially wanted to point you toward the art she creates from the wide range of colors and textures that these drought tolerant plants-as-art offer.

Wild Goddess Designs by Sarah Dunn.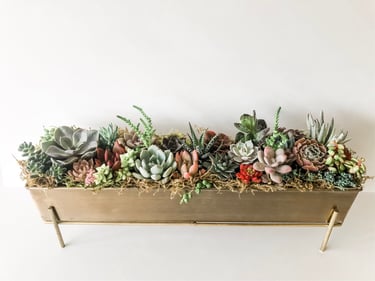 Art as art
When we think about buying art, often it's an investment. And sometimes, it takes time. A while back we wrote about one of our favorite local galleries, SLATE contemporary (slatecontemporary.com) located on 25th Street in Oakland, and the concierge service they offer for your home art selection: bit.ly/arana-art-guide

We 100% endorse that thoughtful process, and, can we also suggest that sometimes buying art is about falling in love at first sight?
Wild Goddess Designs by Sarah Dunn.
December is a lovely time to visit the wine country, so why not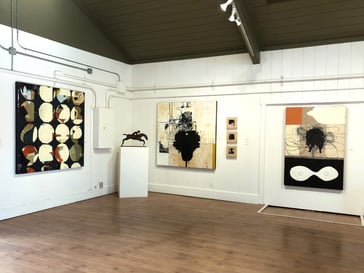 stop in and see SLATE's special exhibition at Cornerstone Sonoma (cornerstonesonoma.com), a combination marketplace featuring shops, tasting rooms, live music, and home to Sunset magazine's "Gardens + Outdoor Test Kitchen."

SLATE's current exhibition at Cornerstone, CROSSING BOUNDARIES (bit.ly/slate-exhibit), features works by artists
Silvia Poloto, Martin Webb, Christy Lee Rogers, Gordon Studer, Rob Snyder, and Marta Moreu.

SBHG Gallery at Cornerstone Sonoma
Located in the SBHG Gallery @Cornerstone Sonoma, the venue SBHG Gallery at Cornerstone Sonoma is just a 45-minute drive from Oakland: 23570 Arnold Drive, Sonoma, CA 95476. The show is open to the public through January 2, Wednesday through Sunday from 11am–5pm, and by appointment. To schedule an appointment or for additional information, please email info@slateart.net, or call SLATE's Gallery Manager Robin Reiners at 208-720-4547.

Written by Julie Feinstein Adams