Oakland Local Guide
Oakland is a city rife with a rich history and plenty of sights to take in. Named after the large and shady trees that permeate the area, Oakland may indeed be one of the smaller Bay Area cities but that doesn't mean there isn't anything of significance to experience therein.
Not only is the city of Oakland full of style but it's multicultural peoples provide both residents and visitors with a variety of different ethnic and cultural foods, music and entertainment to enjoy. There are also vibrant street fairs where tourists can get their hands on unique items at great prices and those traveling through Oakland in the summer can enjoy summer festivals that feature dance, music, and gourmet food. Moreover, sports fanatics can take in an Oakland A's game at Ring Central Coliseum. Sightseers can also take in Jack London Square, Lake Merritt, and Oakland Museum of California. Those with families will enjoy Children's Fairyland and Redwood Regional Park. There's no shortage of entertainment, good food, and memories waiting to be made in the city of Oakland.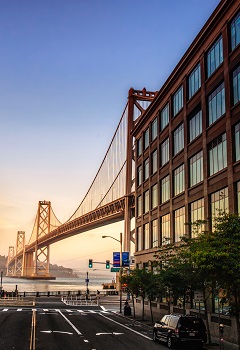 WHAT ARE THE TOP 10 FUN PLACES TO VISIT IN OAKLAND, CA?
Oakland is the perfect vacationing spot for you and your family. So many places to visit and here is our top 10 picks.
Oakland Zoo
USS Potomac
Paramount Theatre
Children's Fairyland
Chabot Space & Science Center
Oakland Ice Skating Center
Jack London Square
Redwood Regional Park
Lake Merritt
Adventure Playground
WHAT ARE THE TOP 10 BEST RESTAURANTS?
Oakland is known for its high-quality restaurants serving delicious food items to their customers. Here are top restaurants according to their popularity and quality of food.
Hopscotch
Lake Chalet
Bardo Lounge & Supper Club
Flip n Soul
Home of Chicken and Waffles
La Selva
Alem's Coffee
Taqueria
Vik's Chaat
Belotti Ristorante E Bottega
WHAT ARE THE TOP PLACES TO SEE LIVE MUSIC?
Oakland will not disappoint if you love live music. Here are top places to see and listen to live music in Oakland.
Fox Theater Oakland
Oracle Arena
Paramount Theatre
Yoshi's
The New Parish
Complex Oakland
Oakland Metro Opera house
WHAT ARE THE TOP 8 SPECTACULAR ART GALLERIES?
Oakland is known for being rich in art and culture. Here are a few galleries that are a must see if you get to visit Oakland.
Vetiver
Mercury 20
Studios Eleven
Part 2 Gallery
Betti Ono Gallery
Aggregate Space Gallery
Art@Archer
Creative Framing & Gallery
MUSEUMS IN OAKLAND
Oakland is rich in history and culture. Here are a few must see museums that are perfect for the whole family.
BEST SHOPPING LOCATIONS IN OAKLAND
Spend the day at some of the best places to shop in Oakland. Here are some of our favorite places.
Rockridge
Temescal
Piedmont Avenue
Grand Lake
Downtown
Old Oakland
OAKLAND HISTORY & INFORMATION
The history of Oakland is lavish and includes early inhabitants of the area, the Huchiun Indians, whom resided in the Oakland area for thousands of years. Their communities centered around what is known today as Lake Merritt, Temescal Creek, and Emeryville. In the late 18th century, Oakland was colonized by the Spanish settlers, more specifically, Luis Maria Peralta and his crew of explorers. With the land divided equally between Luis, Antionio Maria, and Vicente, the area was given the name, "Encinar" which translates to Oak Grave. The modern name of the city is derived from this early Spanish name.
Oakland continued to be owned and controlled by the Spanish up until the mid 1850's when struggling Chinese immigrants established China Town in a bid to make better lives for themselves and their families. The Chinese brought with them a number of great things to the area but also brought the disease and plague found in their homeland. As a result the Spanish and other communities attempted to relocate the Chinese via both economic sanctions and arson.
What is known as "modern" Oakland began in 1851. Horace Carpentier, Edson Adams, and Andrew Moon began developing what is now known as downtown Oakland. The sought to strengthen the local economy with two hotels, a wharf, warehouses, and cattle trails. After Oakland was incorporated as The City Of Oakland in 1854, Horace Carpentier became its first mayor. Soon after it became an official city, Oakland grew exponentially with railroads and wharfs. There were also horsecar and cable lines constructed during this time which made Oakland a sensible and exciting destination for settlers and those looking for better lives.
Population And Economics
Oakland is a city comprised of multiple cultures and ethnic groups. It's 425,195 residents are 34.5% white, 28.0% black, 25.3% Hispanic or Latino, and 16% Asian. Such diversity brings a rich and deep culture to Okland that isn't readily found anywhere else. Moreover, this diversity makes Oakland an attractive place to settle as being part of the Bay Area means that work isn't difficult to procure. There are jobs on ports, a bustling tech industry, and is even home to Dreyer's Ice Cream, Pandora Radio, and Ask.com.