Aelita Leto does not recommend that you google Feng Shui and paint colors. In fact, she does not recommend that her clients, or anyone, do anything just "by the book."
As a Feng Shui master with over 20 years of training, and dual degrees in mathematics and physics, as well as decades of study in Chinese astrology and metaphysics, she takes the accumulated knowledge base of Feng Shui very seriously. And, if there is one piece of advice that she can impart to people about her profession, it is that Feng Shui is not about applying strict rules, or applying the colors on a Bagua (a map used to interpret the energies of a space often represented as a nine-section square grid or octagon) to your walls.
She says, "A great Feng Shui master may not easily tell whether his understanding of the nature of a place comes from intuition or from knowledge. When one has truly mastered an art, intuition and knowledge become one thing, one organ of perception and understanding. Whether we are talking about Feng Shui, or a practitioner in any other discipline, when we consult or apply our expertise or wisdom, we rely not just on knowledge, but we also apply that knowledge based on experience — in addition to what feels right. The true definition of mastery is when practical experience, knowledge, and intuition blend in one.
"It's like when you go to a doctor. They may check your temperature, blood pressure, posture, breath, age, nature, capacity — just like how l'm looking at the capacity of a space, the neighborhood, the condition of the building, the intention of the owners — and then a doctor or by analogy, a Feng Shui practitioner, will synthesize the available information and taking into account their professional experience, make recommendations."
Leto relates an example of a client who came to her with an issue regarding paint color. "She reached out to me and said, 'I had Feng Shui done on my home 20 years ago and it worked.'" The client was currently in the midst of a remodel and felt it was time to examine what else could be done, from a Feng Shui perspective, to improve her home of 40 years. She was particularly stuck on what to do with the living room.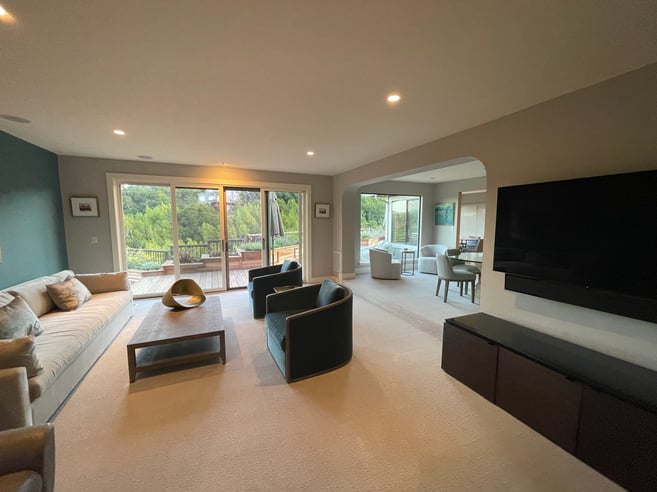 LIVING ROOM AFTER: No longer yellow, no more fireplace...
"I work with the land first," Leto explains. "I begin by understanding the external environment, where the body, where the building stands; Where is the sunlight? Where is the coolness? I look at all of these elements. What is the quietest spot? The loudest spot? You take each piece of information and you start layering them over, and over, and over each other.
"Nothing is about 'missing corners,'" she laughs, with a bit of an eye roll, "or 'love and relationship' in the upper right or 'finances and prosperity' in the upper left," she intones, reeling off a common list of Feng Shui tips and "truisms" that most amateurs discover in their first trip across the internet, or in their first Feng Shui book.
"All of this terminology, it's a good start for people to have these awarenesses, but that's not true Feng Shui."
Instead of being beholden to rules, Leto explains, "There is no right or wrong in what we can create in a space. It's more about what is appropriate. Is this in alignment with the person who lives in the space, how they want to utilize the space? The living room, bedroom, kitchen, hallways — all have their own energetics. With Feng Shui, when I look at a space, I'm thinking about balancing the energetics."
"So, on my first day on the site, I'm walking the territory and the first thing I see is this beautiful rock; from a certain angle it looked exactly like a sitting lion. I said to her, 'Do you see this? You have a spirit rock, your own lion, your own protector!' In all her years of living there, she'd never noticed this."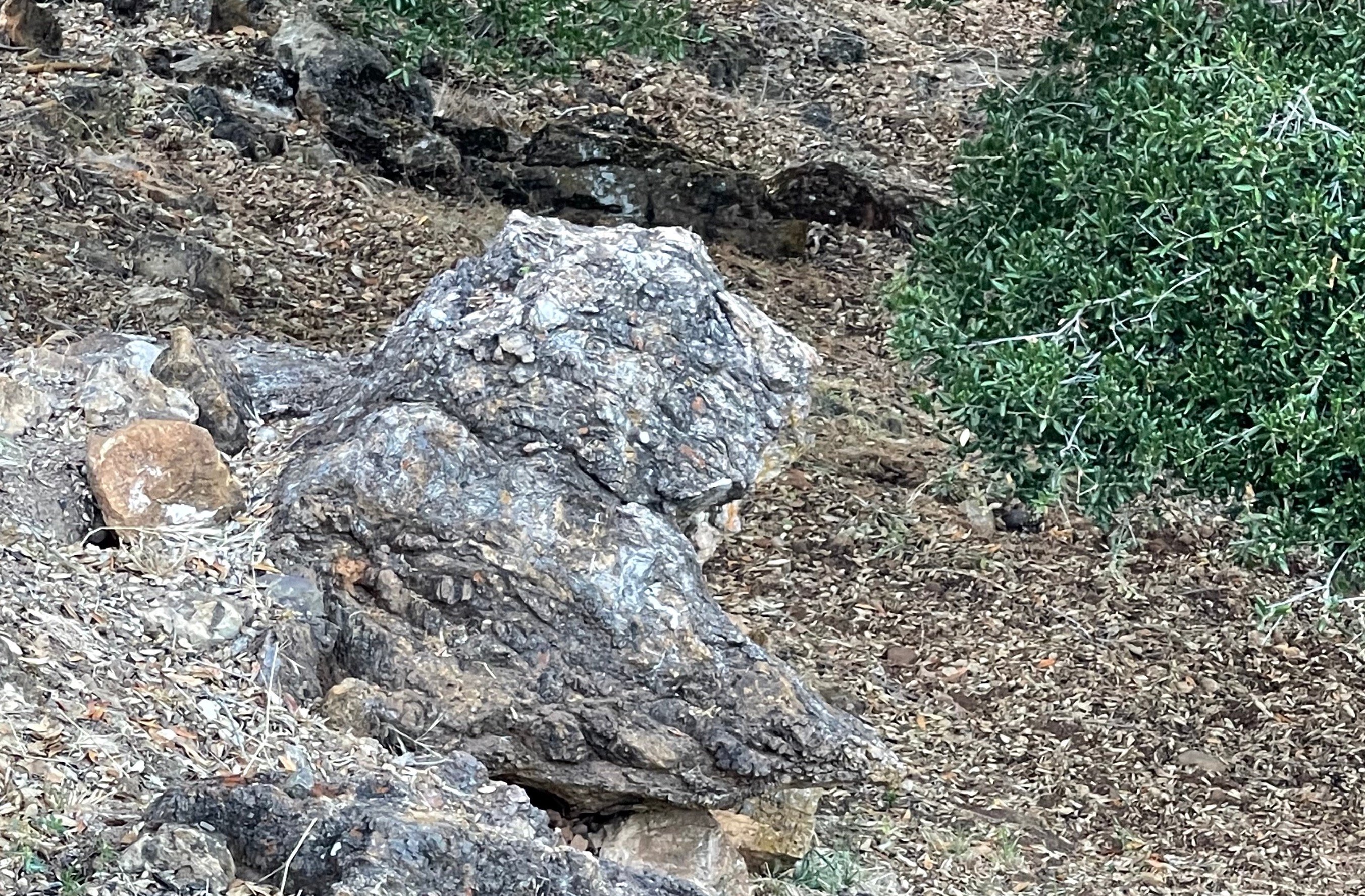 The client had completed her kitchen remodel but was stuck on what to do with her living room. "There was this enormous fireplace, which she hadn't used in 20 years because it was broken," Leto recalls. "Because the room was South-facing, the previous consultant had advised the homeowner to paint the walls in gold and yellow. But she admitted to me she never really liked it."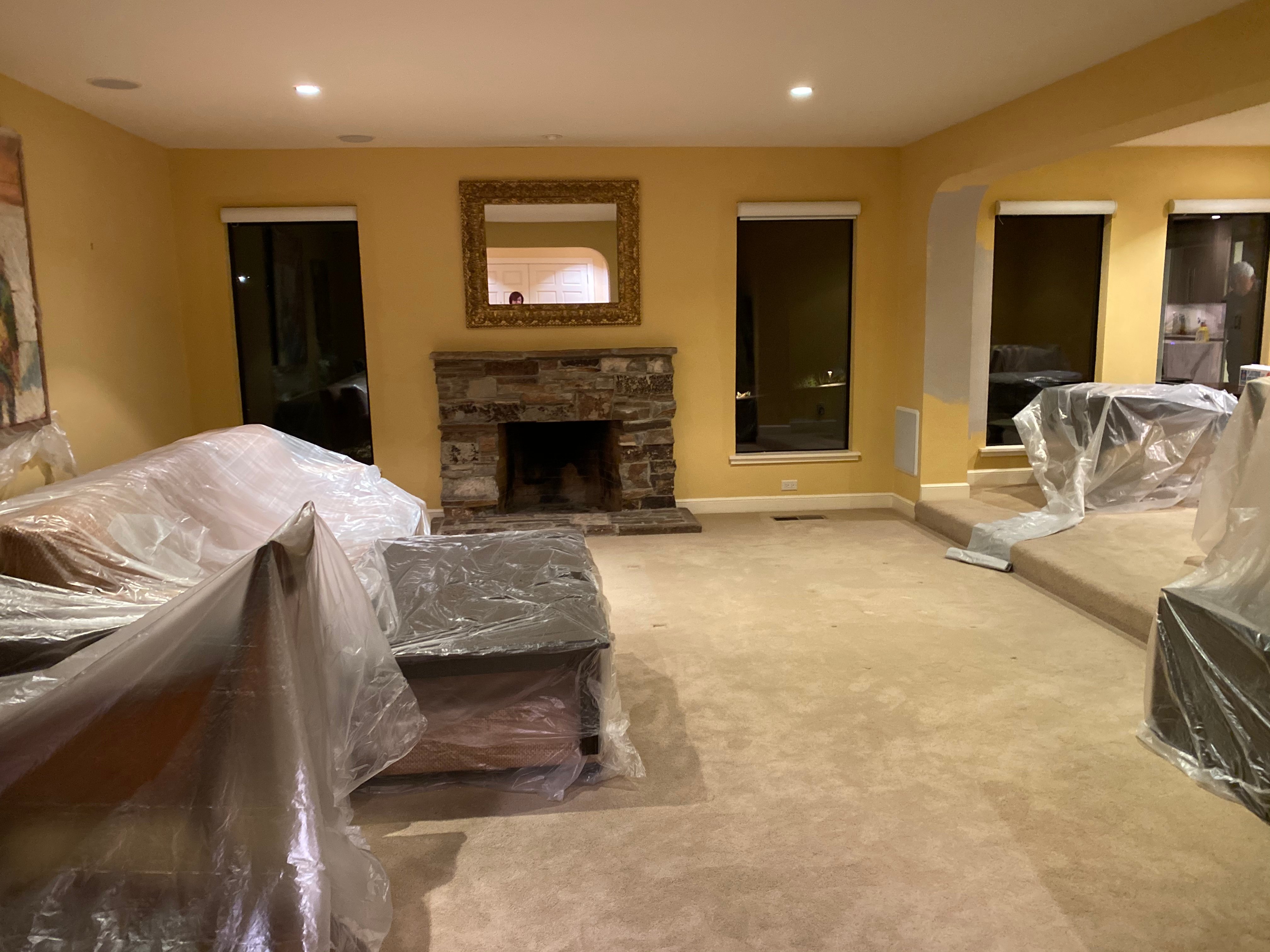 While gold or yellow might be textbook for a South-facing room, Leto explains that true Feng Shui is about balancing energies, and thus her advice and interpretations can be more complex. A consult with a client will include looking at the person's Chinese astrology, as well as their age, stage in life, and desires for their home.
She describes her decision-making process for this house: "It's in the South, it's a living room, with these enormous windows, so I don't need the walls to be yellow in order to be 'representing the south' — generating warmth is naturally built in because of the light.
"From the moment I saw the room, all I could think of was to remove the fireplace, replace it with double sliding glass doors to the deck, and repaint that living room." Adding glass doors like this is in contradiction to typical book-Feng-Shui advice regarding the main entry.
Opening up the wall accessed a view of the client's 10-acre property, a wide, verdant valley in Morgan Hill. "The greenery that comes in, it's like a green energetic river."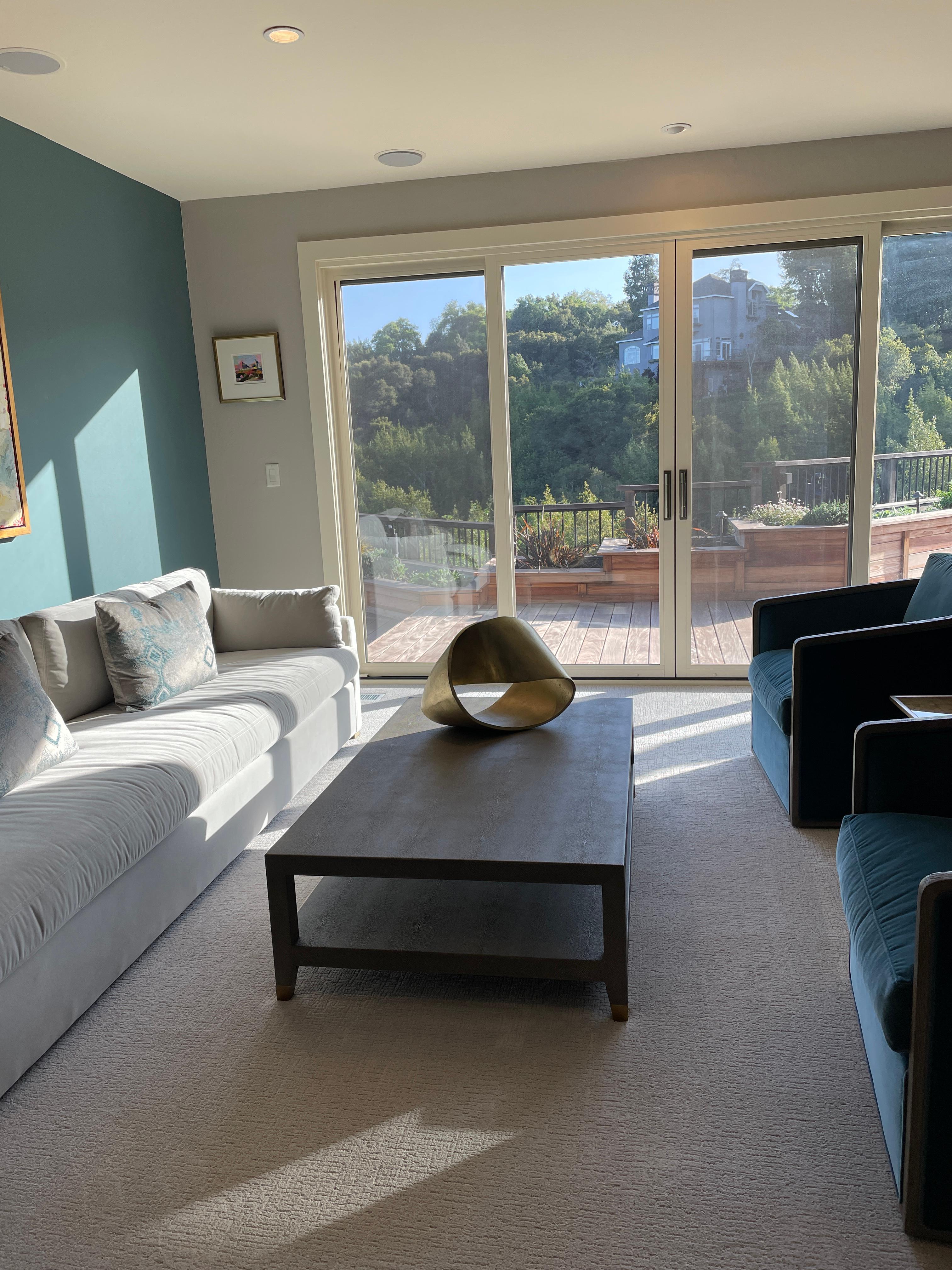 The homeowner is a grandmother who frequently entertains her family, so, Leto explains, "We want to compliment the activity — it's not a bedroom, it's a living room. It's going to be a focal point, the main connection between the front door and outside to the deck. We need something that contains the energy flow. So the room cannot be white. White would make it too exuberant, too vast.
"If the space is too open, the next intuitive question is, how do you calm it down? If it's a living room, it's already going to have high activity, walking, talking, TV… How do we combine that with also wanting to feel settled in and contained? What happens at sunset when the light changes? All of these nuances are going to impact the tone.
"The big view is the yang chi, because of the light, the big windows, the openness, from what point you are looking at the view becomes yin space; it wants to be contained."
Leto knew that the room color needed to contrast the light coming in as well as balancing the wide-open space.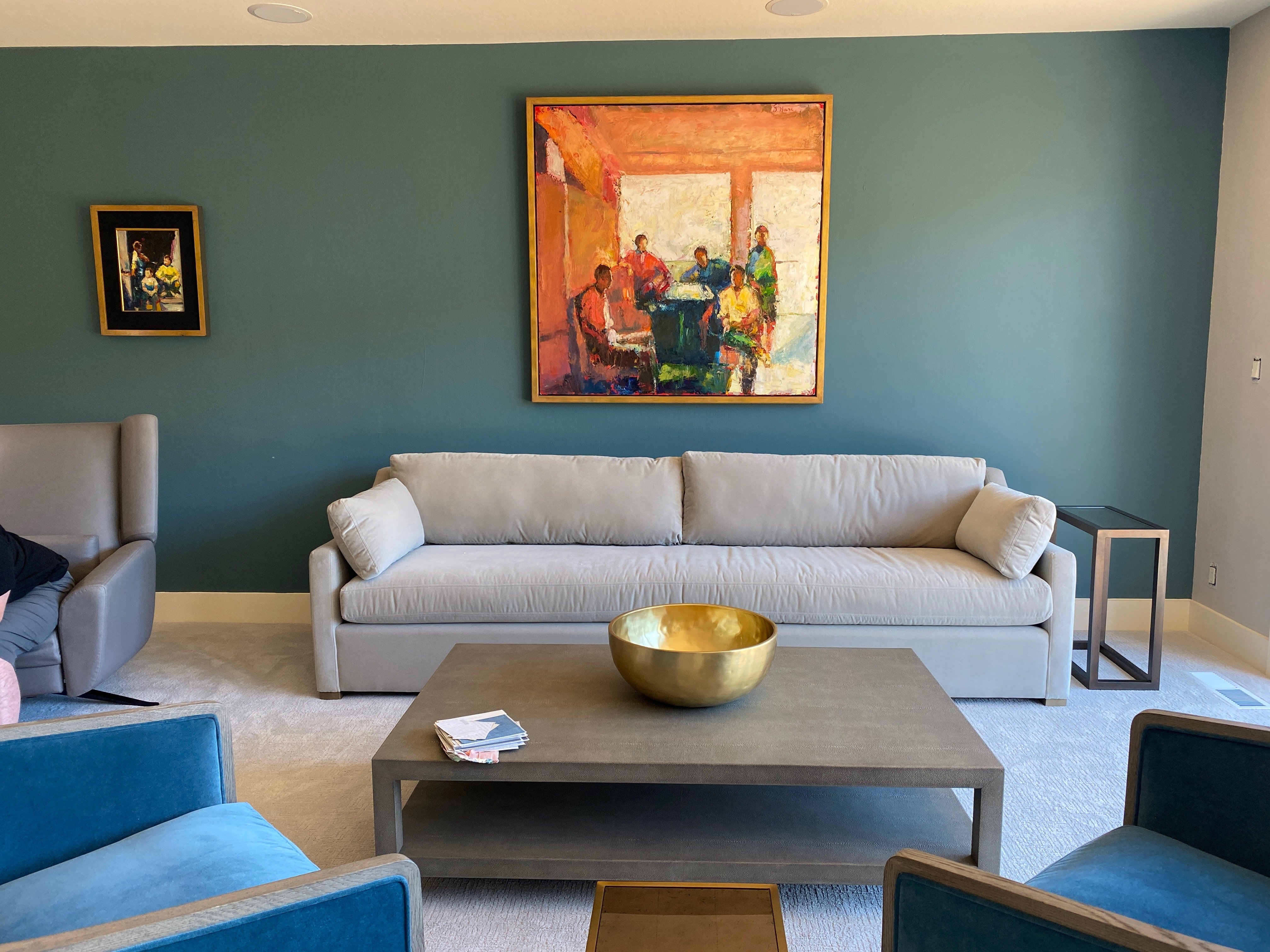 The color she suggested is a deep, mid-range blue. The homeowner was shocked. "She said, 'This is one of my favorite colors! I wanted to do that room in that color, but because of the previous Feng Shui person's recommendation, I didn't do it!'"
This is Leto's exact point: "When you start doing Feng Shui consulting, and you understand the light, where the light comes from, the quality of that light, the connection, the type of room and activities you are doing in the space, that dictates the atmosphere you are creating, and how you help the client to choose what changes to make."
"The living room was painted yellow because all the books say the color in the South is supposed to be yellow, gold, or red."
Leto's recommendations included hanging a piece of the client's art (she's a painter) on that now-blue wall. The painting, of family gathering together, is a joyful impressionistic melange of reds and yellows, bringing in a touch of warmth and liveliness against the soothing cool tone.
"No book is going to suggest this blue for a Feng Shui practitioner to recommend. No book is going to dictate an accent wall in that color."
About the "gadgets," meaning the bells, crystals, coins, wind chimes, mini fountains, etc., she says, "That's the consumerism. That's not how we have impact. When we focus on these objects, we can use these things as a catalyst — but are we really doing Feng Shui at that point? I would say no.
"You can do a lot with a color, but what primarily dictates is the body, the energy body, and how it flows based on the arrangement of the space, a physical, tangible, feeling. Knowing how to apply Feng Shui principles comes with practical experience.
"Anybody who googles Feng Shui can read about the theory," she says, but what she really wants people to know is instead of being beholden to a perceived rule, "Just do what you love! Don't feel that because of what Feng Shui says, you have to do this."
Leto sees herself ultimately as a tool, "a divine tool, a channel. My advice is not coming from my subjective mind. It comes objectively from what resonates, from the land, the house, the situation, the people; what creates alignment, bringing heaven chi, earth chi, and human chi into balance.
She notes, "I am not an interior designer; however I am looking at feminine and masculine, the light dance of yin and yang in the space. The saturated blue wall is yin, the painting with red accents becomes yang… It's like a tango; dancers go with the flow of energy coming in and coming out; you are working with those aspects. That's the art of Feng Shui in my interpretation."
Leto smiles as she reflects on this client's response to their work together. "When I talk to this client now, she says, 'Isn't this wonderful? To move into a new home without moving out!'"
For this same client, Leto also recommended opening up a wall in the master bedroom, which gave the client access to her deck, itself already an enormous, positive shift; and the new windows connected her to her spirit rock, the lion, which was right there in her new view.
---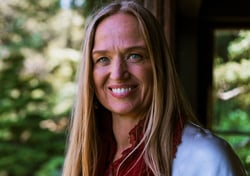 AELITA LETO is a classically trained Feng Shui practitioner. Since 1989, she has studied and worked with internationally recognized masters in architecture, design, the mantic arts, and Feng Shui. Aelita has built a firm that attracts private clients, public organizations, and businesses seeking advice on how to enhance their spaces, achieve harmony, and enjoy success. She is also a member of the faculty at the Golden Gate Feng Shui School in Oakland. Learn more about her work at aelitaleto.com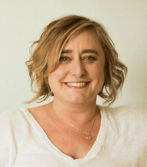 JULIE FEINSTEIN ADAMS is a freelance writer who specializes in marketing content development for mission-driven entrepreneurs, home services professionals, artists, and healers. She also writes about her own life as a memoirist and storyteller, and supports others in their transformational journeys as writers and humans with both coaching and editing services. Learn more at jfacommunications.com